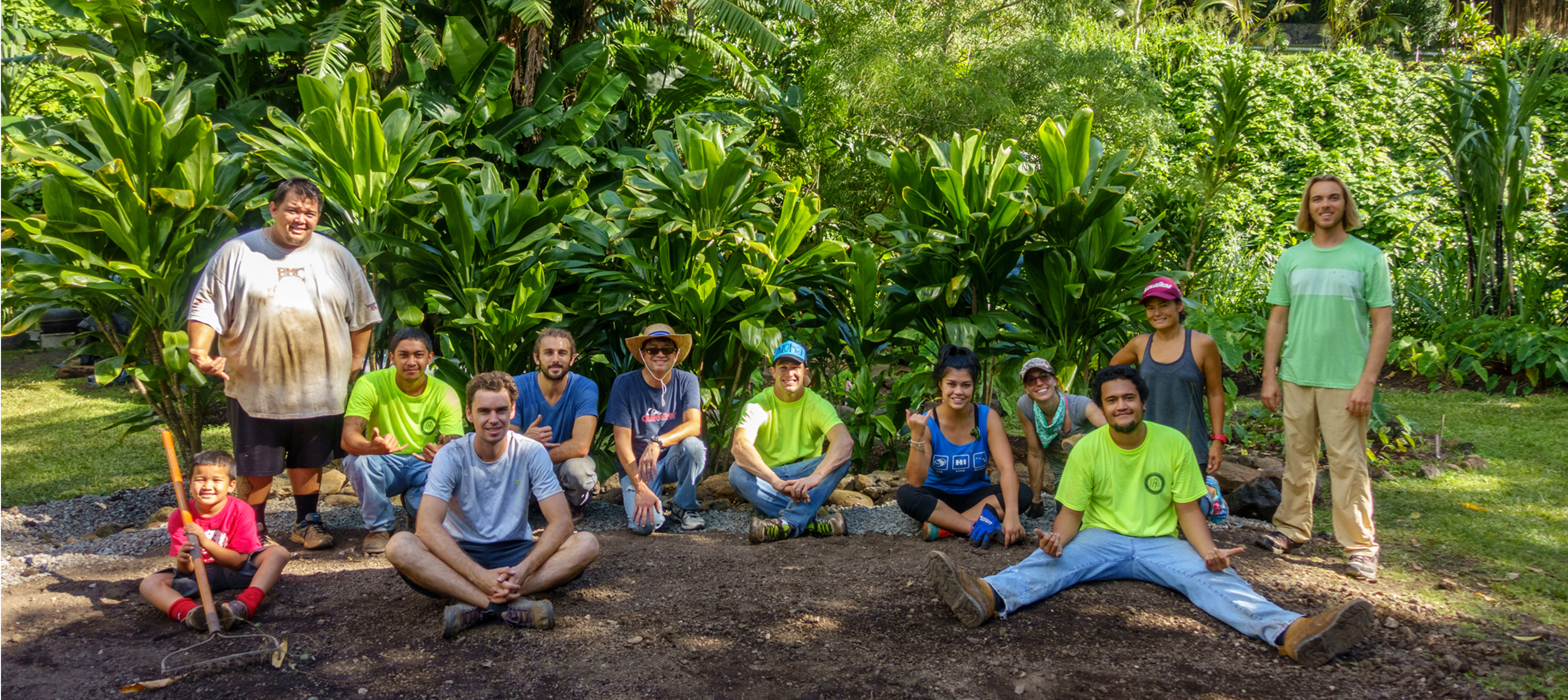 U.S. Green Building Council Green Apple Day of Service
For more information on Green Apple Day of Service, visit www.usgbchawaii.org.

November 5th, 2016
Every year, the U.S. Green Building Council (USGBC) organizes a national Green Apple Day of Service (GADS).  Hosted around the country every fall, GADS is an opportunity for USGBC Chapter members and other members of the community to give back to their local schools through projects that create positive environmental impact.
This year, the Hawaii Chapter of USGBC organized three separate GADS events, which were held on September 26th, October 29th, and November 5th. KYA was able to sponsor the November 5th GADS that was put on for the Halau Ku Mana Native Hawaiian Charter School (HKM). The project, which featured a French drain that emptied out into a rain garden, was designed to reduce the impacts of storm water runoff on an outdoor learning space.  The space is a focal point for the place-based and Hawaiian-influenced curriculum for which HKM is known. Unfortunately, the heavy rain events that frequent HKM campus in Makiki Valley can leave the learning space a muddy mess.

The GADS event for HKM took months of planning.  USGBC volunteers Ian Tierney, Amanda Cording, Jonathon Loeswick, Andy Crossland, and Kiara Kealoha met with the school to become familiar with the site and understand HKM's needs and concerns.  The volunteers leveraged their diverse backgrounds and expertise to engineer a green, low impact development design for HKM. The design and implementation of the stormwater solution would not have been possible without the ongoing support and mana'o from HKM kumus Imai and Trevor and HKM board member Corlyn Orr.
The HKM GADS was also a success because of the generous contributions of volunteers.  KYA was able to donate meeting space for the GADS coordination, as well as some equipment on the actual day. Several HKM families showed up on Saturday to get dirty and help in the construction of the drain and rain garden. Ka'ipo Gora and Keanu Sanders from Pae 'Aina Landscaping volunteered their time to dig the drain trench with a USGBC-donated mini excavator. The perforated piping and the insulating fabric sleeves for the drainage system
were donated by Pacific Pipe. HC&D donated the gravel that filled the trench, while Corlyn covered the gravel delivery fee. In the rain garden, plants were donated by Hui Kū Maoli Ola and mulch was donated by Island Topsoil.  Special thanks go to Melanie Islam from USGBC, who identified potential GADS sponsors and coordinated the funding for rental equipment and lunch.
After months of planning, it was awesome to have the November 5th GADS go so smoothly. It was a successful day of hard work, sweat, and determination, culminating in a newly constructed storm water solution for HKM. USGBC looks forward to hearing how the new, low impact development project works in keeping the HKM learning space dry.
If you are interested in volunteering or sponsoring the next GADS event, please visit www.usgbchawaii.org